Getting Started
Moodle allows instructors to add all content and activities on the course homepage. Students are able to see and access all related content and activities from the main course page rather than having to navigate between various areas of the course to access different types of materials. Instructors group content and activities into modules which can be organized by topics or by weeks.
Different areas in a Moodle course include: the Activities block 

, the People block 

, the Settings block

, Edit Settings

, Editing

, Add a Resource

, Add an Activity

, Quickmail

and Library

.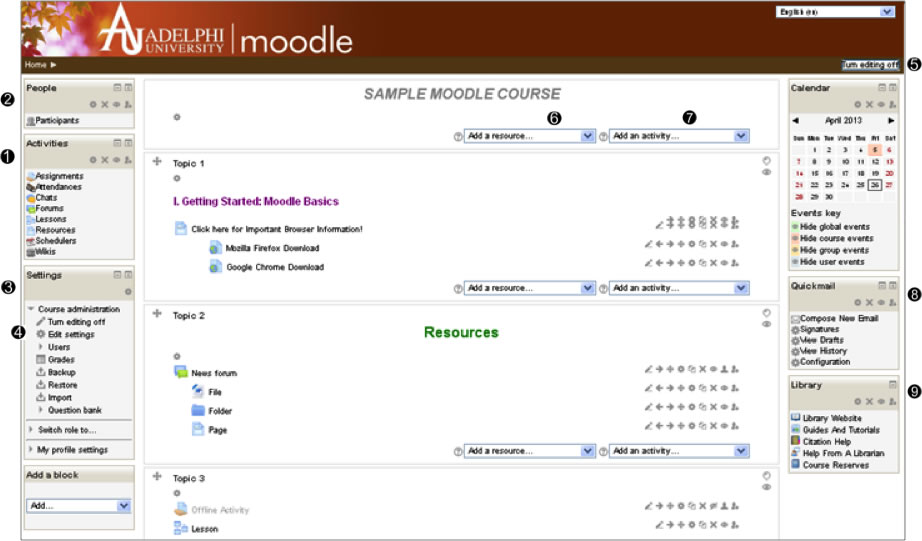 The Activities Block
---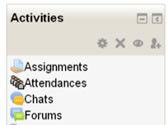 The Activities block allows users to view a list of all course activities arranged by category. This block will only display categories that have items available to participants.
The People Block
---
The People block displays the names, assigned roles, and profiles of every currently enrolled participant in the course. You can access a user's profile by clicking on their name. You can edit your own profile by clicking on your name and choosing the Edit Profile option.The Settings BlockSettings block is the most important block in your course. The Turn editing on option enables you to add activities and resources to the course.  After turning editing on there will be several small icons in each block and topic. These include arrows for altering the position (left, right, up, or down), the update icon, the delete icon, and the eye icon.
Icons
---
| Icon | Effect | Icon | Effect | Icon | Effect | Icon | Effect |
| --- | --- | --- | --- | --- | --- | --- | --- |
| | Edit item | | Item is Available | | Delete/Remove | | Edit Item Title |
| | Duplicate Item | | Item is Hidden | | Indent/shift right | | Move here |
| | Assign Roles for Item | | Help | | Move Icon* | | Highlight week/topic |
| | No Groups | | Separate Groups | | Expand Block Condense Block | | Move to Dock Undock All |
Using the eye icons: When eye icon is 'open' (

) the item is visible and accessible to participants. When the icon is clicked the eye will 'close' (

)and the item becomes hidden and inaccessible to participants. This function is useful when you want to keep an item or module in your course, but do not want participants to have access to it.